---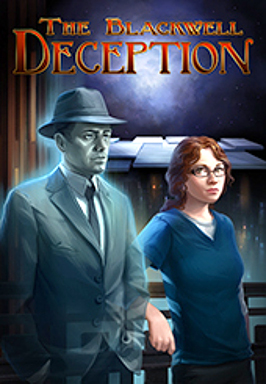 Blackwell Deception
Rating: NR - Not Rated

They are like old friends – Joey Malone, and Rosa Blackwell – the ghost /psychic team. When I finished Blackwell Legacy in January I had gotten fond of those little sprites. Amazing how the simple graphics can carry the story when coupled with great voice acting, unusual plot, snappy dialog and good music. Every character is voiced individually – watch the scroll at the end of the game.
About the plot – this team is still encouraging souls to accept the great beyond, only this time they meet up with powerful half human, half ghost adversary. It brings in a new level of complexity – the possibility of a supernatural mafia and outer-world alliances. The characters are developing also – Joey enjoys a kissing episode with another ghost and Rosa becomes pro-active in the pursuit of this demon, which actually puts her life in danger. The plot thickens for another game. Wadjet Eye has a good thing going.

Fun Factor: Absolutely engaging
Female Factor: Rosa is developing into a stronger character
Player Friendly: Yes - and remember to check the ending scroll
Reviewed by: Editor - Nov/11
Blackwell Deception
&copy Wadjet Eye Games
Platform(s): W7 Vista
To Download: Win http://wadjeteyegames.com $14.99
Game Site: http://wadjeteyegames.com/
---
NOTICE
Unless otherwise indicated, games, movies, books or other products which are reviewed or mentioned on this site have been given to us by the respective authors, publishers, distributors or their public relations representitives.
Alphabetical list of all reviewed games
Chronological list of reviewed games
Game Reviews
Casual/Online Games
Semi-Vintage Games
Gifts for Grandchildren
Cell Phones
Favorite Games
Virtual Worlds
Software / Other Things
---
---


Games4Grandmothers is produced by Metron Studios, a division of Metron Computerware, Ltd., Oakland, CA
Copyright © 2001-2007 Metron Studios

Web presence by Metron Studios
20070808