---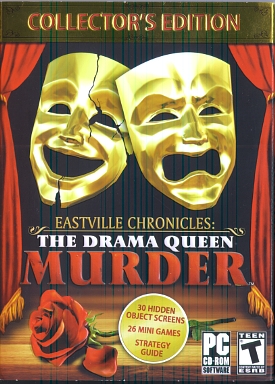 Eastville Chronicles: The Drama Queen Murder
Rating: T - Teen

The game mostly takes place in a theater setting. The characters are one big happy – or not so happy a family. It's a hidden object game over-layed with a mystery. Character images appear on the screen and dialog with you, the detective, investigating the crime. Nine adventure screens take place mostly in various parts of the theater but some take you to a suspect's house. The characters are pretty well defined for a game of this type and the objects to find are more -or-less related to the setting in which they are found. The discovery of the murderer involves plot twists that keeps a player guessing throughout the game.

Fun Factor: Interesting mystery
Female Factor: The Queen is dead but there are other female characters.
Player Friendly: Good
Reviewed by: Editor - Mar/12
Eastville Chronicles: The Drama Queen Murder
&copy THQ/Valuesoft
Platform(s): Vista W7 XP
To Order: Win http://www.amazon.com/ $ 19.95
---
NOTICE
Unless otherwise indicated, games, movies, books or other products which are reviewed or mentioned on this site have been given to us by the respective authors, publishers, distributors or their public relations representitives.
Alphabetical list of all reviewed games
Chronological list of reviewed games
Game Reviews
Casual/Online Games
Semi-Vintage Games
Gifts for Grandchildren
Cell Phones
Favorite Games
Virtual Worlds
Software / Other Things
---
---


Games4Grandmothers is produced by Metron Studios, a division of Metron Computerware, Ltd., Oakland, CA
Copyright © 2001-2007 Metron Studios

Web presence by Metron Studios
20070808