---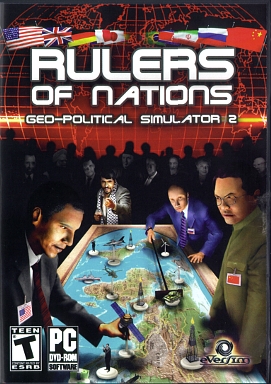 Rulers of Nations
Rating: T - Teen

Geo Political Sims are important to the creditability of games. There must be an option to experience national scenarios and conflict resolution other than shooting and blowing up things. I previously reviewed a couple of these types of games - PeaceMaker by Manifesto Games/Impact Games - a simulation about the core struggles between Palestine and Israel and Commander in Chief by eVerSim, where I managed to stay in power even after I cut students vacation days by a third. Surprisingly, staying in power is mostly a popularity game. Pleasing your constituents will enable you to hang around long enough to do "big things".
Eversim takes everything a significant step further, magnifying options and possibilities and also complexities. All of the world's countries are represented, and a vast number of issues can be dealt with - economic, social, military, domestic, foreign, ecological and staying in power. The screen begins to look like Command Center - stunningly realistic and quite intimidating. There is a longish tutorial and a multi-paged manual. You can play against the computer or up to 16 on-line players. This is not a game for everyone - but a good game for the right person.

Fun Factor: Yes - if you are a political junkie
Reviewed by: Editor - Feb/11
Rulers of Nations
&copy eVerSim
Platform(s): W7 Vista XP
To Order: Win http://www.amazon.com/ $36.24
---
NOTICE
Unless otherwise indicated, games, movies, books or other products which are reviewed or mentioned on this site have been given to us by the respective authors, publishers, distributors or their public relations representitives.
Alphabetical list of all reviewed games
Chronological list of reviewed games
Game Reviews
Casual/Online Games
Semi-Vintage Games
Gifts for Grandchildren
Cell Phones
Favorite Games
Virtual Worlds
Software / Other Things
---
---


Games4Grandmothers is produced by Metron Studios, a division of Metron Computerware, Ltd., Oakland, CA
Copyright © 2001-2007 Metron Studios

Web presence by Metron Studios
20070808